We've reimagined our entire Firm experience from the inside out, including our team's well-being experience. It's not enough to simply provide professional development opportunities. We must also consider the additional foundational elements that make up our team member's overall well-being.
MGA Cares: A New Approach to Personal, Professional Health and Wellness
We aim to connect each and every one of our team members to MGA's greater purpose by enhancing personal development opportunities and building stronger relationships between each other, our clients, and the communities we love through intentional programs, offerings, and experiences across seven key wellness categories.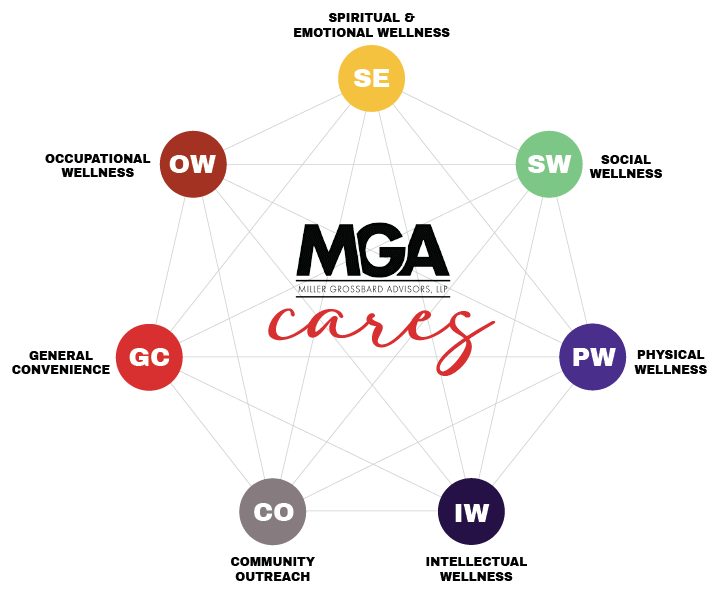 Spiritual & Emotional Wellness
We desire contentment for all MGA team members and aim to foster a culture of self-reflection and open dialogue with support and insight from Firm leaders. We offer access to apps that can help with sleep and stress reduction and provide benefits that support mental and emotional health. We also encourage time off and promote a healthy work/life balance, knowing how important that is to our team's overall spiritual, mental, and emotional well-being.
Social Wellness
We keep a full, fun social calendar to create opportunities for our team members to make connections, nurture their relationships with each other, and develop a sense of belonging for themselves and others. Happy hours, escape room challenges, lunch outings, Halloween costume contests, March Madness bracket contests, monthly staff meetings, virtual on-going bingo games, and volunteer days at the park. You name it; we are having fun doing it.
Physical Wellness
We aim to instill health-conscious lifestyles throughout the MGA community by providing resources and opportunities that support physical health so our colleagues can lead more active, healthy lives. Our office is located in a prime location in the heart of the Houston Heights, where team members can walk, jog, or bike right outside our doors. We've also hosted Whole30 programs, private yoga classes, water drinking challenges, and more.
Intellectual Wellness
We provide opportunities for our team members to learn new concepts, improve upon skills, and seek challenges to foster an environment of lifelong learning. We offer tuition reimbursement programs, have leadership track programs, host and provide requested lunch & learn topics, and more. We also have learning programs in place that aren't technical but focus on soft skills instead, providing value in all areas of your life and career.
Community Outreach
We offer opportunities for all team members to cultivate relationships, advancing the MGA team presence in the community. Here, all team members have client contact, and we help everyone build relationships from day one. We host an annual volunteer day, where we get out into the community together as a team. We also sponsor numerous events throughout the year and give everyone "volunteer time off" to give back in ways that matter to them.
General Convenience
We provide practical resources that make our team members' lives easier and more efficient. From advanced technology, to flexible schedules, to office perks. We are all about making the complex simple for our incredible team. We also have an active firm-wide Teams channel where we constantly share personal and professional tips and tricks to enhance each other's daily lives.
Occupational Wellness
We focus on work-life harmony by creating a sense of purpose and productivity in both the personal and professional setting, inspiring and challenging our MGA teammates, and providing practical tools and steps to achieve balance. We recognize the importance of satisfaction, meaning, and enrichment through work and aim to help every team member pursue the opportunities they enjoy the most.
MGA Cares About Our Community And Our Planet
While we enjoy giving back to our community with both our time and our money, we also prioritize integrating other eco-friendly and sustainable practices into our daily business operations. MGA takes responsibility for its effect on the environment and is always looking for new ways to minimize our waste and reduce our carbon footprint.
We like helping.
We also like hanging.